Celeste Marie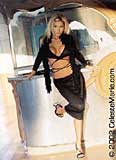 Hi, My name is Celeste Marie and I'm a model that lives in Southern California. I stand 5 ft. 6 inches tall and weigh 103 pounds. I'm a mixture of German and Greek. I have long blonde hair and hazel eyes. Some of the companies that I have modeled for include Playboy Newsstand Specials, Hawaiian Tropics, & Benchwarmer trading cards. I am brand new to the net and I just opened up my very own website at http://www.CelesteMarie.com

Gene is my favorite member of Kiss! He is a God when it comes to marketing! He has the Midas Touch. I hope that I can become as successful in whatever I do in life as he has become with the music and everything else! You go Gene! Please put me and my girlfriends in Tongue magazine and make sure you stop by! I'd love to meet you again.

XOXO,
Celeste Marie

See more of Celeste at GeneSimmons.com!
Click the image to see more of Celeste!
PLEASE NOTE; Any Lady In Waiting past, present or future who would like her photos printed in a future issue of GENE SIMMONS TONGUE magazine, please let us know. We are considering doing a LADIES IN WAITING section in the magazine. So, send us your beautiful photos and tell us all about yourself.