GENE SIMMONS TONGUE #4
ON NEWSSTANDS NOW!!!
Subscribe!! Subscribe!! Subscribe!!!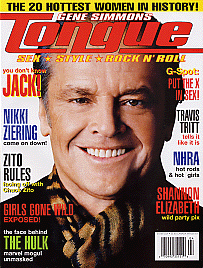 Welcome back to the pages of Gene Simmons Tongue - thanks for being here. I hope 2003 is treating you right and you are ready to lick up some Sex, Style and Rock 'N' Roll! What an interesting and eclectic mix we have for you this issue. Nowhere else will you find in-depth interviews and exclusive photos on celebrities ranging from the infamous Jack Nicholson to country music's Travis Tritt, from gorgeous Shaena Lamas to Marvel Comics guru Avi Arad. We've got the hilarious Jim Breuer playing Phone Tag and our Nikki Zierling story will have you wishing that she would "Come on Down"!
We also "educate" you in many ways this issue. Calling Dr. Love explores threeways (we're not talking conference calls here...), and you'll learn new meaning to the phrase "Give her an inch". The G-Spot story will make you a "G-Whiz" and the Bikini Bandits will steal your heart (along with some other body parts). We'll show you the 20 Most Beautiful Girls in History and 5 cars under 50 G's. Speaking of cars, we have wild shots from NHRA drag racing from the strip and more "stripping" in our interview with "Girls Gone Wild" founder, Joe Francis. Chuck Zito from Oz gives us a candid interview and director Joel Schumacher sheds his light on the film world.
Of course we have all of Gene's personal pics to make us wish we stuck with those guitar lessons as a kid and plenty of other stories to entice and entertain you. William Shatner, AKA Captain Kirk, fazes us in 20 Licks and our fashion layouts feature some "out of this world" models. Our Backstage section features some great people, places and things and we even pay tribute to Steak and Blow Job day on March 20th, which just happens to also be my birthday (I wonder if that means I get seconds???) We've got the latest Film, TV, DVD, CD and video game reviews as well as some great gadgets to satisfy any boy toy cravings. We party with Shannon Elizabeth, check out female wrestling and catch up with Devin Devasquez; Star Search Champion and Playmate. We visit Hedonism II in Jamaica and pay tribute to The Ramones.
Looking back at this list I realize just how much we have crammed into our fourth issue. Let me take this opportunity to thank all of you that have become subscribers and loyal GST readers. Your thousands of letters and comments have been appreciated and inspiring as well. We will keep bringing you the best of Gene's world, combining the many elements of what today's man and woman want to know, see and read about. Our summer issue is already getting started and we will have exclusive stories on all the latest KISS events including the once-in-a-lifetime show with the Melbourne Symphony Orchestra and The Budokan shows in Japan! See you next issue.

Allen Tuller

Publisher & Co-Founder
---
Back to top
---
About Gene Simmons Tongue Mobile
© 2001 Gene Simmons Tongue, LLC, all rights reserved. GENE SIMMONS is a registered trademark of Gene Simmons and KISS and the facial makeup of the KISS band members are registered trademarks of KISS Catalog, Ltd., all rights reserved.
Version 200203.26