Hi mate,

I've been reading your book and for the most part it's awesome!
I have to totally agree with the Marriage is a finacial contract.
I'm 28, recently divorced and never has anything cost me so much money as 1st, being married 2nd being divorced. I think it's more expensive to be divorced! 28% of my pre tax dollars go to my former spouse+she got the house, the car, the computer, the tv, the video, the cutlery eveything!

Learn from my harsh lesson people, and listen to gene. Full disclosure and honesty.Ask the tough questions first.

Thanks gene

Response from Gene:

Dumb men get married. So do smart women.
---
Gene-

I just got done reading your book "Sex Money Kiss". I can honestly say it was one of the best books I have ever read! In my opinion a modern "Think and Grow Rich" but without the B.S. Though I am not a huge KISS fan, I can tell you I was so intensely impressed with your philosophy on life, love, and money, I was inspired to send you a letter. I have read all types of success & financial empowering books. In my opinion, your book is so much more real and identifiable with modern America. I couldn't put it down. It was one of the 1st books I read without stopping! Though I am a 25 year old woman, I found much humor from your accuracy and outlook on the social and physical differences between men and women. I completely identified with your "truths" about life! Thank you for your contribution! This book will definitely be on my recommended reading list! And from now on the question in my mind before I lay down to sleep will be "how can I make more money?". You truley are a remarkable man. I hold you in the highest respect!
Your Newest Fan, Alicia Horban
---
Hey Gene,

Sorry I missed your birthday. Happy Birthday!! The world is a much more interesting place with you in it.

Here is a classic photo of my cousin's wedding where he had a KISS cake instead of wedding cake. Classy move. It was a big hit.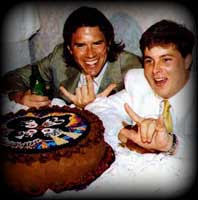 ---
Gene,

I just have to say that "Sex, Money, Kiss" is an incredible book. I am a Real Estate Broker and since I read your book my sales production has tripled in the last six months. Thanks for making this happen! Real Estate is based on referrals so where do need to send your 25% referral commission check! I look forward to meeting you if and when you come to OKC! (Platinum Experience)

Thanks!

Wyatt

www.wyattpoindexter.com
---
Hey Gene

Just wanted to let you guys know that I was recently told by my best friend Paul ( the one in the Paul Stanley makeup in the pic) that his 3 year old daughter is already an up and coming KISS fan... she heard "Lick It Up" on his stereo in his shop and now she has a CD he made with the song on it 16X back to back...LOL... ALL HAIL KISS!!
Loved The Nissan Pavilion show on August 9th. It was my sisters first KISS show . She cried when she saw you guys on stage... I felt proud to share it with her. I also took my wife to her first KISS show on Nov. 19,1998 at the MCI Center . She couldn`t talk for a week....LOL. It was her very first ever concert of any type. I`m sorry to say that poor Aerosmith didn`t stand a chance. But it just goes to show ya... no matter how big a band you are or think you are ... you can never hope to hang with the HOTTEST BAND IN THE WORLD...... KKKKKIIIIIIIIIIIIIIIIIIIIIIIIIISSSSSSSSSSSSSS!!!!!

Gary
Bealeton,Va.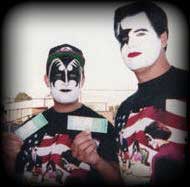 ---
Hi I am a 16 year old from Tasmania, Australia.

My friends and I are starting a KISS tribute band which we are going to call Alive!
I have been brought up listening to KISS and my dad and I have all your records. It was my 16th Birthday a week before yours. And you are my idle and have been for years. By the way is there any chance of you guys coming to Australia on your tour, because it would be my dream to see you guys in concert, if you guys come to Australia, you should come to Tasmania and check it out. I couldn't afford to go and see KISS Symphony, but I have been saving up my money just in case you guys come to Australia again.I have been trying to track down the 'KISS Not Dead Yet' t-shirt. Some of my most treasured KISS memrobilia is the KISS revenge vinyl, that is signed by Eric Singer, that my dads friend got for us when he seen you's a few years ago in Melbourne(He said that you and Paul were too hard to get to). And the interviews on vinyl were the records are shaped like you guys. I have just finished reading your book 'KISS and Make-Up' it is a pretty awesome read. Hope all is going well, good health and I hope to see you's one day in concert(before you retire).
From Danny Fazackerley
---
I attended the concert in Pittsburgh on Aug 21. It was phenomenal! KISS kicked ass! Nobody can follow that act and that was apparent in Pittsburgh that night. While on our way to the concert, we heard about Gene's book signing the next day in Pittsburgh. I looked at my husband and simply said, "I wanna go." So right after the concert, we went to the bookstore and slept on the sidewalk to be one of the first to meet him. After we got our numbers for the book signing, (numbers 10 and 11), at 9 am, we jumped in the car and drove 125 miles to pick up our 6 year old daughter who is a huge Gene Simmons' fan. We drove the total 250 miles in 4 hours just so she could meet him face to face. He made it completely worth it. Gene, you are a truly amazing, wonderful man! You made one of my dreams come true and also the dreams of my daughter. She thought you were just the coolest guy ever and has said that she is going to be you for Halloween every year from now on. Thank you so much for taking the time to talk to your fans and make this KISSexperience wonderful for everyone.
---
Dear Mr. Simmons,

My 4 year old son Jeremy has become a huge KISS fan. I guess I'm a positive influence. We had vip box seats for the Pittsburgh show. He was so excited about seeing KISS live but was unaware of how incredible the experience would be. I explained to him that you could fly and he asked how? I told him simply that Gene Simmons can do anything. Needless to say KISS did not disappoint. Jeremy was blown away, and so were my friends from work who were not Kiss fans before the show but definitely are now.
To cap off the experience we went to your book signing the next day. Unfortunately we were #425 in line. I bought your new book (enjoyed it very much) & also KISS the Early Years. I waited awhile and things were going slow so I went home and persuaded my Mom to try a little later since I had a hockey game to go to. I told her that there would be little chance that you would still be there to sign for over 400 people but give it a try. To my surprise I came home to find two autographed books. Mom was not a fan going in but was one when she left. She said you were wonderful towards Jeremy and her and couldn't believe that you stayed until all autographs were signed, enjoying every minute with your fans old and new alike. Thank you for a spectacular couple days. You and KISS are amazing.
Sincerely,
long time fan
Scott
---
Hey Gene,

I'm a graphic designer and want to send you this illustration that I show in my portfolio. Can't wait to see you in October!
Love, Necole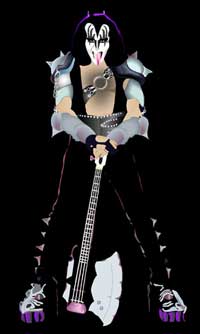 ---
Hi Gene,

My Friend Christina met you at Borders bookstore in Pittsburgh, Pa. A few weeks ago.
She was so excited to meet you and show you "OUR" picture of our rendition of KISS. We masqueraded on Halloween last year for my husbands band "CONTROL" {I'll send the pic along with this letter} She said you wanted her to send it so you could post it on your website so here it is.
Now about your book ....Sex, Money, Kiss, WOWWWWWW I must applaud you!!!! I read it in 2 days time and couldn't believe being of the female persuasion that I would enjoy it as much as I did. I am impressed to say the least about how much you really have to say. I thought this book was going to be about how many women you've been with and the many different aspects of being in the worlds greatest rock n roll band, but to my surprise its not about that at all! Its about how anyone can be "VERY" successful in life , work your ass off and accomplish anything you want to do and more! {theres that word more} I agree that money makes the world go round and to have lots of it sure is the icing on the cake of life! Its really inspiring to read and really HEAR what your saying! For that I thank you! I have a real good outlook on life to begin with, but as I sat here reading sex, money, kiss, I thought this man is genius! Why the hell didn't I think of that! Your book is awsome just like the man.
LEAD ON!!!!!!!!!!!!!!

faithful Kiss fan for a longggggggggg time,
Laurie Cowan
Reynoldsville, Pa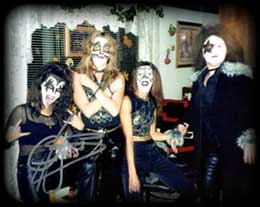 ---