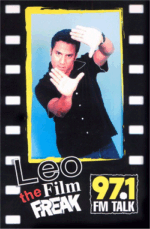 Leo Quinones: Master of Ceremonies
"One day I was wearing my sister's high heeled shoes, sporting a tennis racquet rigged with a vacuum cleaner chord acting as guitar chord. I was performing Paul Stanley's monologue right before 'Cold Gin' on KISS 'Alive.' Then it happened, my father walks into my bedroom. There I was, humiliated. He rolled his eyes, shut the door & I went on with the show."

Leo Quinones, a high ranking member of the KISS ARMY now hosts the #1 movie talk show in Los Angeles. The Film Freak Radio Show airs every Saturday night 7pm-9pm on 97.1 KLSX The FM Talk Station. During the "Detroit Rock City" promotional period, Leo produced entire radio shows weaving KISS in any possible. Some thought Leo was crazy, others knew it was the only place to get a proper KISS fix.

Leo can currently been seen on www.kissonline.com hosting video features & interviewing Paul Stanley at the World Premiere of "Toy Story 2." "I'm truly honored to be be hosting the Los Angeles KISS Expo. I don't care if you've gotta fly, drive, hitchhike, swim or even run, get to the LA KISS Expo. It's gonna be "Awwww Right!"

Leo's Alter Ego: Paul StanLeo: "I'm in a Look-A-Like Tribute called, KISSED. It's just four guys who love stepping into somebody else's Seven Inch Leather Heels."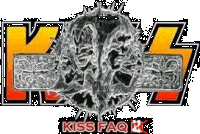 Julian Gill: DJ
After moving to America in 1978, Julian Gill quickly discovered that the Beatles, Bonny M, Abba, the Osmands, and Meatloaf weren't the only music around. After an elementary school talent show where Julian witnessed some fellow students dressed up in tin-foil and strange makeup, lip-synching and miming to "Deuce" and "Black Diamond" he was hooked on the monster known as KISS. Julian's history in the KISS Army is more a story of missed opportunities: In 1984 he got grounded from attending a KISS concert in Binghamton, NY, one of the few shows Mark St. John would play with the band; In 1988 he missed the band's Donnington appearance by falling asleep on the train; In 1997 his missed the band's final Alive/Worldwide show when his car broke down on the way to London (he'd also managed to miss other UK shows in '96 due to transportation issues). However, it's not all been bad. Since 1996 Julian has run the online KISS FAQ, at kissfaq.com, which delves into the history of the band. Now, not only one of the longest running websites, the site has spawned a book, "The KISS Album Focus", that tracks the history of the band album by album, which quickly sold out of its limited edition run in 2002. The site remains the only source on the internet to hear samples of some of the rarest and most obscure KISS related material, and to discover the history of the "Hottest Band In The World"...